We were handed a tiny, solemn, scared little 10-month-old in a Chinese Affairs office in Nanning.
I still remember feeling, later that night, as we were sitting in our hotel room, looking at our new daughter, that a Very Large Mistake had been made, that these people didn't know what they were doing:  they gave us a BABY?!?!  What on earth were they thinking?!?  We had absolutely no idea how to take care of a baby.  In fact, within a day or two, she managed to roll off the bed and bump her head, and we were sure that we had damaged her for life.
Hah.
Let me show you what she was like when she was three: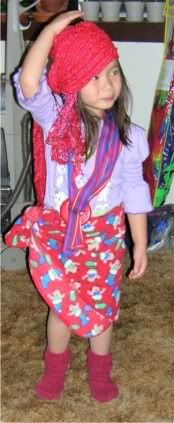 And when she was four: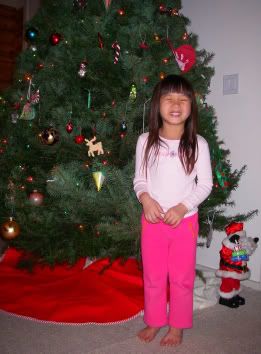 And five:
Six:
Seven:
Eight:
Nine:
And ten, this year—some pics that I haven't posted here, but may have on Facebook.  First off, all dolled up as the flower girl at her uncle's wedding:
Her fall fifth grade school pic:
Her gymnastics team pic:
And a nice picture at lunch with us and her grandparents who came to visit (now doable because we live in New Mexico, not the wilds of Alaska):
We are well on our way into the scary world of tweendom.  There are times when she is an absolute mystery to me.  But then, there are times when we spend the entire ride home from gymnastics (1/2 hour) singing with pop songs on the radio at the top of our lungs.
She is beautiful.  She is artistic.  She is athletic.  She sings beautifully (but, alas, I haven't been able to record her, but I might be able to talk her into it, or simply sneak a recorder into the car on one of our drives home, so she doesn't go all self-conscious).  She is growing up.
She is in Level 6 in gymnastics, and next year, if she manages to conquer the (scary) giant on the uneven bars, she will be in Level 7/Optionals, which is a major step forward.  She has a rock-hard body, and delights in showing off her six-pack abdomen.
She is constantly alerting me to things that are inappropriate…at the same time, she and her buds at school have reached the stage where anything that can remotely, possibly be related to anything inappropriate sets off a fit of embarrassment and laughter.  (Prime example:  The science volunteer who comes in once a week to do a few hours of experiments and science with the kids was talking mechanics, and started describing a situation where one BALL was shooting into TWO BALLS, thus, no doubt, imparting kinetic energy.  Did we get told about kinetic energy by the girl?  No.  We got required to sign an essay about showing respect to teachers and volunteers because she and her buds busted a gut laughing about BALLS.)
She has finally found a book that appealed to her enough so that she a) purchased it, b) started reading it, and c) finished reading it, all on her own, with no urging from me or requirement from school.  What was this literary delight?  It was Justin Bieber's new book.  Hey.  Whatever works, y'know?  At this point, I am ready to fall down on my knees and kiss the ground in front of his feet for that particular piece of grace.  No-one better bad-mouth Bieber to me any more! 
(I really plan to write more on the blog.  It will probably be only on weekends, though, as our time gets eaten up with traveling to and from gymnastics…)
posted in Adoption, Family, Gymnastics, OmegaDotter, Parenting, Pop Culture | 3 Comments