posted in
Science
|
Do me a favor?
Go outside. Right now. Look to the west, down by the horizon. See if you can see the slender crescent moon with Venus (at its brightest!) right next to it. Don't wait, don't read the rest of this post, go check it out, then come back.
Do it for me. I don't think we'll be able to see it tonight, because the sky is filled with milky clouds. Wah!
I was able to get some (very bad) pics last night, but the two weren't really close together. They are tonight. Last chance: Venus is swinging into place so that it will be a morning star. This was the best shot I got last night: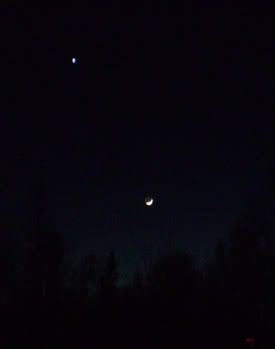 Check out some of these Flickr pics.
Go! Don't sit around! You might miss it!