posted in
Art
,
Dance
,
Music
|
I have, sitting on the wainscot ledge by my computer, this: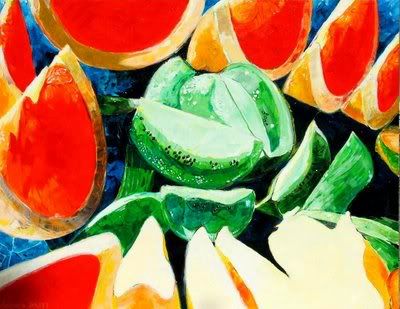 It's by a lady named Andrea Pratt, and it arrived this afternoon. I love it. The vibrant colors are just what I need in the midst of an Alaska winter. I want to sink my teeth into the grapefruit, I want to hand some dripping kiwifruit slices to the dotter (she loves kiwifruit, I don't), I want to be sitting in the sunlight with a plate full of fruit…It's great.
It was the result of a sale where Andrea asked for bids. I threw out a low bid–I knew it was low (though not how low, I'm really lousy at this kind of thing)–figuring she'd say no. No-one else bid for it. So there I am, the owner of this lovely painting, because for some reason it didn't "grab" anyone else the way it "grabbed" me.
So since I'm feeling guilty about my purchase, I am asking y'all to go visit Andrea's blog, Colouring Outside The Lines, and her online shop, Small Art, to see if there's anything one of you might be interested in. She also has an Etsy store, which is where I found her to begin with; the Summer/Dance/Birdland/Bloom quartet is similar to the ones I purchased a year ago, which are now hanging in our living room.
Another guilty pleasure, of a totally different sort: Wilbur Pan, who is the Chris Brown of Chinese pop/rap. For those of you who don't (yet) know of Chris Brown (though you will as your girls get older) (I'm told teen girls swoon), think of a Chinese Michael Jackson-esque rap singer. AmFam turned me on to him, though she doesn't know it. OmegaDotter loves his videos.
Wu-Ha!