We have been here in Alaska now for a year and a half.
A while back, the dotter wanted to write a love note to One And Only True Love. Remember him?
"Dear One And Only True Love: I will love you forever and ever, OAOTL! Yay! OAOTL, you are so handsome! Yay OAOTL! I love you!"
Ahem. Okay; we thought it was cute. We put it in an envelope and put a stamp on it, and then I let it sit on the dresser by the front steps for quite a while. Because, while it was cute, it was also a little bit overboard and I wasn't sure how OAOTL's mom would feel about such a…overwhelming…note.
Unbeknownst to me, OmegaDad popped it into the mail one day.
A few days ago, in the mail, there was a letter to OmegaDotter. The return address? OAOTL's name and address. Being Mean Mom, I made her do her homework and help with the chickens before I pointed it out to her, but as soon as she saw it, nothing else mattered. She ripped it open. There were pictures (one up above, from the preschool "graduation"–aren't they cute?!). There was a drawing of a beautiful rainbow and hearts. There was a note. OmegaDotter was walking on air. She had to tape the pictures and letter up on her wall above her bed. I was told–rather fiercely–not to tell anyone, especially not K., her current BFF.
I hang my head in shame: My first thought was to let all my blog readers know.
There was also a note from OAOTL's mom (thank goodness!) in which she made it very clear she was immensely amused by the love letter.
So: Love lasts forever, or at least more than a year and a half.
All of which brings me to a separate topic, yet related: Surely, even the most rabid anti-Obama people must recognize that he and his wife are (still!) wildly in love with each other–and they really like each other, too! Every picture of them together at the inauguration, and every picture of them together from prior to that, shows two people who are constantly touching, looking at each other, whispering, sharing, caring. As someone said in one of the comments to the (many many) pictures of them dancing at the various inaugural balls, "They look like it's their wedding night!" And there were a great many "Awww! They're so cute!" comments, as well.
I find myself hoping that the dotter will find a similar relationship, one of partners and equals and friends.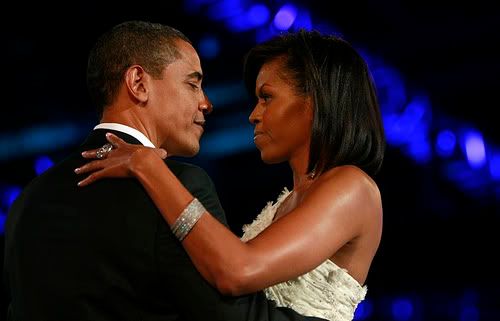 (Photo: REUTERS/Jason Reed)
I also find myself hoping that such an obviously loving and intimate marriage is an inspiration to others, especially people who find themselves in a relationship where they feel one-down, where one person obviously is more invested in the relationship than the other. See? There's hope. There are people out there who can find True Wuv, and so can you.
posted in OmegaDotter, Philosophy, Politics | 8 Comments