posted in
Uncategorized
|
OmegaDad has arrived in Small Town, Alaska, and he and dawg are ensconced in the temporary little apartment that the relocation bennies cover.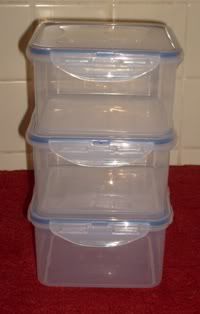 So, since he's there, it was now time to pack up turtles and ship them to him. Carefully following instructions garnered from TurtleHomes, I had three little boxes for the turtles, and proceeded to pack them…
First, we have Frankie, our smallest, freshly cleaned…Frankie, somewhat timid, retreated to his shell and cowered…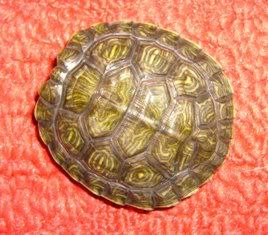 We have Frankie placed upon a bed of moistened paper towels…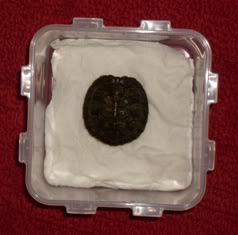 We then cover him with crumpled newspaper, so he won't get excited and tip himself over (a tipped-over turtle will smother if he stays in that position too long).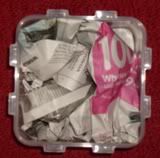 Then we carefully taped the box, with one of the hinge flaps tucked inside, so that there was a ventilation opening.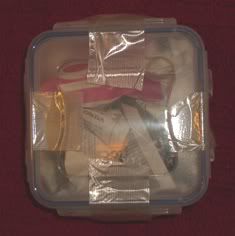 We did all three like this, resulting in a Tower O' Turtles: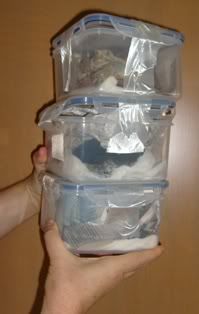 At this point, I stopped and did what all turtle-handlers should do: scrubbed my hands and then used a wee tad of bleach with water. Turtles carry salmonella, even nice, long-lived friends of the family like Yurtle, Halley, and Frankie.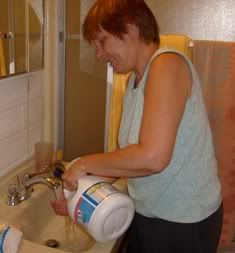 Then we put crumpled newspaper into a cardboard box (complete with air/ventilation holes) and laid the taped plastic boxes in their nest.
All nice and snug. Then we labeled the hell out of the outside of the box, lots of "THIS END UP" messages, and "LIVE ANIMALS", and a carefully drawn and cut-out turtle from the dotter.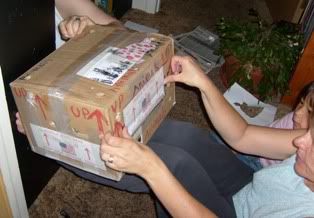 At which point, it was time to run errands. The bank…deposit a check from Great-Grandma. Oops, there will be a hold put on it until Friday. Hmmm. Oh, yeah, and we won't take the dotter's piggy bank; you will have to sort and wrap the coins before we will accept them.
Harrumph. Back out to the car to our next stop, the UPS store.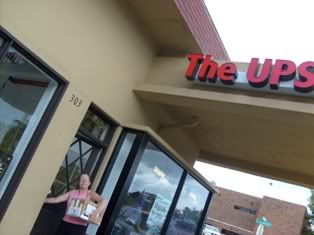 Oops. The UPSStore won't take the turtles. But they suggest going to the UPS depot in the next town over; perhaps they'll take the turtles.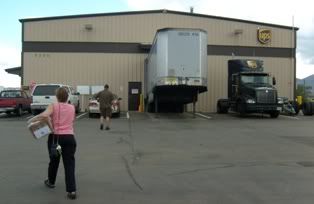 Onto the UPS depot. At the depot, the lady at the counter informed us that they wouldn't take the package. There are, it seems, schools with courses on "how to properly package live turtles for shipment". No privately packed and privately shipped turtles allowed. What you see next is OmegaMom making a moue of frustration: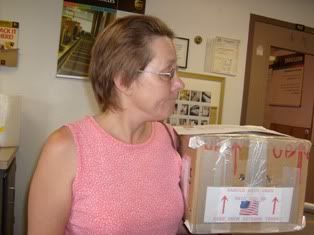 We next went to Pet Smart to see if they had turtle shipping available, or any great ideas. The nice girl at Pet Smart said, alas, that they didn't do private shipping. Maybe Fedex? Or the local pet store, a more "mom-and-pop" type of operation?
We returned to OmegaGranny's house, defeated. A phone call to Fedex resulted in no go, as well. The local pet store owners (friends of OmegaGranny's next-door neighbors) weren't in. We were stymied.
But, as luck would have it, Alaska Airlines will let you ship turtles in the baggage compartment. Woohoo! A nice young lass from AA helped me make the confirmation that we would be taking turtles with us, and it was on to the next errand.
In a call to the Former State Capital Cheap Rent-a-Car franchise, I asked, "How late are you open for car returns?" They said 5:30. We eyeballed the clock, and I headed out. (First, we tried to contact Cuz E., who in the midst of all the phone calls had kidnapped my laundry bag of dirty clothes and taken them hostage to the local laundromat. See, I would need a ride home from the Cheap Rent-A-Car franchise…But we couldn't contact Cuz E. So I headed out anyway, planning to hang out, read my book, and wait for rescue/a ride.
I drove out. I got there. Immediately I was suspicious: It said "Cheap Rentals–Truck Rentals". Hmm. Lo & behold, it turns out that, while they used to do the car rentals, they no longer did so. (Why didn't they say something when I called earlier?) And the nearest Cheap Rent-A-Car where I could return the car? Well, it was either…
Small Mountain University Town (!!!) or Valley of Death (!!!). Since the whole plan had been for me to ditch the rental here and us all to be ferried down to the airport in Cuz E's car, this seemed to put the kibosh on OmegaMom and dotter having a cushy ride to the airport.
But all is well. We are caravanning to the airport, me in the rental car to the car rental return, and OmegaDotter, OmegaGranny, Cuz E, E's daughter C, the cats, the turtles, and the luggage in Cuz E's car. Meet up at the ticket counter, make sure all is well with cats and turtles (with a back-up of taking them back up the hill with E, OmegaGranny, and C if the airline changes its mind), and then…
…on to Alaska.
We arrive in Alaska around 7 p.m. Pacific Time.