When it comes to passing down family heirlooms, there seem to be three groups of people: those who truly appreciate the heirlooms, to whom they are precious pieces of family history; those to whom family heirlooms are just useless junk; and those who are just plain…well, too immature to appreciate it.
Once upon a time, OmegaMom was an immature twit. OmegaGranny gave OmegaMom some precious craftworks in her early 20s, and OmegaMom, being an immature early-20s flibbertigibbit, proceeded to treat such craftworks in a thoroughly unappreciative manner.
Some backstory:
During the '50s and '60s, the OmegaParents were artsy Bohemians. Living in the Near North Side of Chicago, they hung around coffee houses, held music jams at home, and put on art shows. OmegaMom's dad was a keen photographer and musician, and the house was filled with beautiful photos he had taken–nature pics, portraits, abstracts. There was an Andy Warholesque poster of a Buddha (a copy of which OmegaMom would dearly love to have now, but OmegaGranny can't find any prints, sigh). OmegaMom's mom did crafts: hooked rugs, papier mache sculptures, appliqued wall hangings.
The hooked rugs were wonders. OmegaGranny, fascinated with the famous Seven Bridges of Konigsberg math puzzle, created a hooked rug of it, which OmegaMom spent many long evenings tracing over and trying to find the solution. Another hooked rug came about because OmegaGranny, flying over the Midwest farmlands on a business trip, thought the patterns of the crops and the rivers were beautiful, so she created an aerial view of a strip of farmland with a river running through it. OmegaGranny gave these to OmegaMom. Sometime in her twenties, OmegaMom LOST them.
The papier mache sculptures were amazing. OmegaGranny would come up with a concept of a fantasy critter, build a framework out of "found items" such as empty paper towel tubes, paper cups, paper plates, and cardboard cut up into shapes, all taped together with masking tape. Then she would pad it with scrunched up balls of newspaper. Then she'd drape it with layer upon layer of papier mache'd newspaper strips, sand it down, and paint it with fanciful paisleys, loops, dots, swirls, etc., all in bright colors. OmegaGranny gave OmegaMom the very first one of these creatures she ever made. Amazingly enough, OmegaMom still has this one.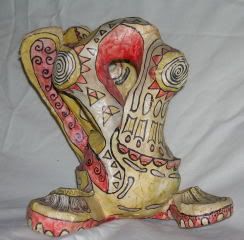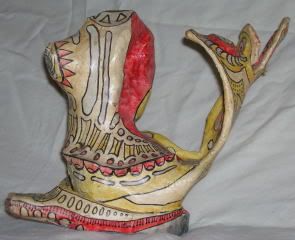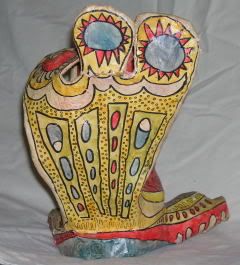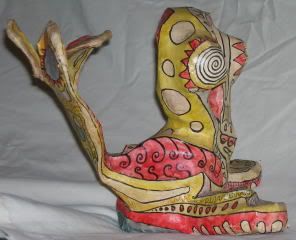 The wall-hangings were glorious. Some were of more of OmegaGranny's fanciful critters, but OmegaMom's favorite was a city night scene, which just shouted out "Near North Side"–highrises in the background, two-flats in the foreground, Volkswagen Beetles driving to-and-fro, neon lights advertising eateries and hotels…OmegaGranny gave this one, and a large sunflower hanging, to OmegaMom. Once again, OmegaMom didn't take care of them.
Somewhere in her 30s, OmegaMom realized–stricken–just what a twit she had been about the various craftworks that OmegaGranny had given her, and mourned the thought that she would never see them again.
Unbeknownst to her, OmegaGranny had rescued the night scene wall hanging.
This Christmas, OmegaGranny gave me the night scene wall hanging again.
Trust me, this is a Christmas gift that means the world to me.
Thank you so very much, OmegaGranny.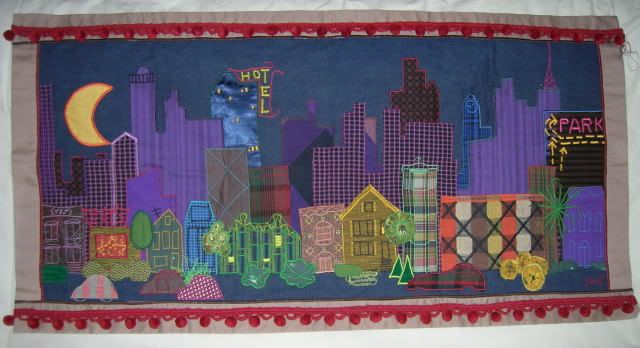 ---
On other Christmas fronts–Santa (aka Mr. OmegaMom) earned mega brownie points from OmegaMom by bringing her a Creative Zen Touch 20GB mp3 player. Ooooh. OmegaMom has been perusing song lists from the '80s. Anyone have any suggestions as to a good subscription or by-song music purchasing site? I gotta be able to get oldie and moldies, not all new stuff.
OmegaGranny earned mega brownie points from Mr. OmegaMom by giving him "To a Cabin", by Dorothea Lange and Margaret K. Mitchell. Mr. OmegaMom has wanted this book for 20 years.
OmegaDotter got oodles of horsies…"Mini Whinnies" (which OmegaMom is sure to find in the middle of the night by stepping on them), a Breyer "Spirit" set, a framed drawing of horsies, stuffed horsies, a horsie coloring book…anyone want to venture a guess as to what OmegaDotter's favorite thing is right now?? She also got a glory of old costume jewelry from Great Grandma, a variety of dress-up items to play with from OmegaGranny, and various Other Stuff. I feel a rant about toy packaging and conspicuous consumption coming on.
---
I leave you with this picture of three generations of OmegaWomen. Here's hoping your holiday was as relaxing, fun, and peaceful as the Omegas'.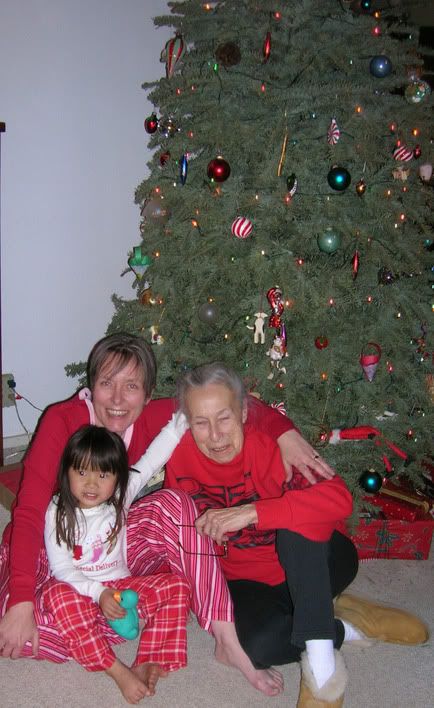 posted in Uncategorized | 2 Comments